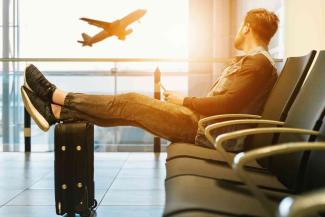 When Vacations Go Wrong: 5 Costly Travel Mistakes & How to Avoid Them
How do you get ready for a trip? 
What travel habits do you rely on to get around, stay safe, and still have fun?
Whether you're going across town, across the country, or to the other side of the world, what you do before you take off — and what you know while you travel — can help you avoid some risky, wallet-draining mistakes.
It can take some of the stress out of traveling. That can mean getting more enjoyment out of every trip, even if things don't go as planned.
To help you get the most out of any vacation, here are some common, costly mistakes travellers tend to make and simple tips for avoiding them. 
5 Traveler Mistakes to Avoid on Any Trip
You can't control everything when you travel. But you can control what you know, how you get ready to get away, and what you do while you're vacationing. 
And if you know these common travel mistakes, you'll be much better prepared to get away and make it a truly great experience.
Travel Mistake #1: Bypassing travel insurance.
Traveling is risky, and anything from the weather to flight cancellations, lost bags, and illness can interfere with a smooth trip. Without travel insurance, you could be left covering the costs of any mishaps or losses out of pocket. That could mean shelling out hundreds to thousands of dollars (or more) if you suffer a medical emergency on vacation, for instance.
Keep in mind that travel insurance is available for single trips and 365-day coverage for more frequent travellers — and that travel insurance tends to be affordable and relatively low cost, when compared with other coverages.
Tip: Get travel insurance when you're booking your vacation plans. Be sure to ask about any exclusions, so you're fully aware of what your coverage does (and doesn't) include and so you can get add-on coverage, if needed. 
Travel Mistake #2: Not anticipating flight delays.
Unfortunately, about 1 in 4 flights operated by the major airlines these days is delayed for some reason.1
That could cause you A LOT of headaches and hassle on your next trip if: 
You have a connecting flight, and you didn't schedule enough time between flights.
You didn't get travel insurance, and your tickets are nonrefundable.
You need to arrive at some destination at a specific time, like for an event that day or the next.
If you're caught up in flight delays and/or cancellations, you could find yourself stranded in a connecting city, footing the bill to stay next to the airport until you can fly out. Worse yet, you could miss out on some of the fun you had planned for the beginning of your journey!
Tip: If you're flying, try to add a "buffer" day for your flight travels, ideally one day extra for flying out and another day for flying back, just in case something unexpected happens and your flight is canceled (or extremely delayed). Also, avoid scheduling connecting flights within an hour or so of previous flights. Try to give yourself enough time to make connections, especially if you have to travel across larger airports and/or if your first flight is delayed for any reason.
Travel Mistake #3: Failing to pack smart.
Smart packing doesn't mean packing everything. It means:
Only bringing what you really need: What items will be at your destination (like robes or hairdryers)? Will there be laundering services available (so you can wash clothing)? Are there any baggage weight limits you need to consider? Thinking about these issues ahead of time can help you cut out the extras and pack wisely.
Accounting for the key factors: What's the weather like where you're going? What are you going to do while you're away? How long are you going to stay? Will you need to bring electrical outlet adapters (if you're traveling to Europe)? The answers to these questions can help you pack smarter too.
If you overpack, you could be charged extra fees for overweight bags if you're flying. You could also end up being more miserable on the trip if:
You have to lug around all your heavy baggage by yourself.
You lose items because you can't keep track of everything (because there's just too much stuff!).
Your bags or personal items are stolen because a thief offered to "carry" a bag for you.
You end up getting hurt because your baggage is too heavy.
Tip: Don't pack at the last minute. Try to pack at least a day or two in advance. Think about what you have to carry around and what help may or may not have with your baggage while you travel. 
Travel Mistake #4: Taking zero precautions against theft. 
Tourists can be easy marks for pickpockets, scammers, and other fraudsters. So, if you look out of place and you're not on guard, you could be their next target. You could also be vulnerable to travel theft if: 
You don't know where you're going. 
You don't carry your money carefully or securely.
You're wearing tons of jewelry, designer duds, or super flashy gear.
Tip: Keep a low profile when you're traveling. Avoid carrying around a lot of cash at any given time. And stay alert to your surroundings, especially in known tourist areas which can be hotspots for thieves. 
Travel Mistake #5: Paying for rental car insurance. 
If you're renting a vehicle at any point on your trip, you could be covered through your own auto insurance provider already — and even if you aren't, buying rental car insurance through the rental car company is usually the most expensive option available. 
Tip: Check your auto insurance coverage before your trip to see if it covers you in rental cars. If it doesn't, shop around for rental coverage before you travel. Avoid getting this coverage through rental car companies whenever possible. 
Better Plans & More Knowledge Can Help You Avoid Mistakes in Travel & Finance
With travel mistakes and their consequences, the more you know, the better. After all, you can't manage risks you're not aware of, and you can't make the best choices if you can't see the entire picture. Plus, the risks and uncertainties that can pop up with travel can change — and visiting one place may not present the same risks as vacationing in another.
That's where your knowledge can help, regardless of whether you're planning travel or focusing on your financial life. So can a trusted partner who can share insight and advice. So, if you're facing uncertainty, risks, or questions about any aspect of finance, remember, you don't have to figure it out by yourself. You can turn to a financial professional for answers, support, and guidance. 
Sources: 
1. https://www.travelandleisure.com/most-delayed-airlines-2021-2022-6814429 
---
This content is developed from sources believed to be providing accurate information. The information provided is not written or intended as tax or legal advice and may not be relied on for purposes of avoiding any Federal tax penalties. Individuals are encouraged to seek advice from their own tax or legal counsel. Individuals involved in the estate planning process should work with an estate planning team, including their own personal legal or tax counsel. Neither the information presented nor any opinion expressed constitutes a representation by us of a specific investment or the purchase or sale of any securities. Asset allocation and diversification do not ensure a profit or protect against loss in declining markets. This material was developed and produced by Advisor Websites to provide information on a topic that may be of interest. Copyright 2023 Advisor Websites.