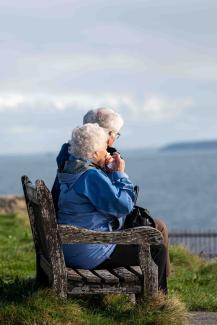 Seven Key Tips for Planning Elder Care
Seven Key Tips for Planning Elder Care
Navigating the complexities of elder care for loved ones can be challenging, and it is a journey that many of us will embark on as our parents or other family members age.
Noticing signs of decline in our loved ones is always hard, and making care decisions for them often feels even harder. While it's impossible to make the process entirely painless, the following guidance should be useful on your journey.
Let's dive into seven tips to help make the planning process smoother and more comprehensive when it comes to caring for your elderly loved ones.
Tip 1: Initiate the Care Conversations Early
Many elders tend to avoid conversations about their future care needs, which makes it crucial to address the topic as early as possible. Doing so from a place of love and support before urgent needs arise can help the entire family get on board with a coherent plan.
Remember, many communities may have long waitlists due to high demand, so early planning is indeed beneficial.
Don't wait until the last minute to start the conversation.
Tip 2: Identify Current Needs
Understanding the specific needs of your elder loved one is key. Identifying "Activities of daily living" (ADLs) that they may struggle with can be a good gauge of the level and type of assistance they might require.
For instance, elders with physical limitations may need help with personal care activities like bathing or dressing, while those experiencing cognitive decline may require assistance with transportation, money management, and housekeeping. Recognizing these needs can help them stay independent for as long as possible and ensure cost-effectiveness.
Tip 3: Identify Their Financial Resources
Elder care can be expensive. Thus, identifying the available financial resources— income, investments, long-term care policies, insurance, benefits, etc.— can give an idea of what your aging parents or loved ones can afford.
Though nationwide care statistics provide a general overview, the actual cost of placement can vary based on location, level of care, type of facility, pricing structures, and more.
Tip 4: Be Clear About Your Resources and Expectations
Care expectations can vary dramatically within families. It's critical to communicate clearly what you can and cannot contribute, both in terms of time and resources.
Even though such conversations can be challenging, especially if your family's expectations differ from your capacity, establishing clear boundaries and responsibilities can create clarity about the services your loved ones will need.
Tip 5: Research Their Care Options
There are a lot of ways to help your loved ones age gracefully. Gaining knowledge about various services and facilities that fit within their resources can enable you to assist them in making informed decisions.
Sometimes, home renovations and local support are enough to support aging-in-place. In other cases, a move to a care community might provide the necessary support for elders to thrive.
Tip 6: Learn the Steps to Secure a Spot in a Community
Many facilities operate with a waitlist so it may be challenging to quickly find a placement when the time comes to move.
Starting early helps. Asking for referrals, taking tours of facilities together (if they're willing), and becoming informed about how each community works can help you all understand the process.
When you've identified a place you may be able to place a deposit to get on the waitlist, giving them the option to accept a spot when it opens.
Tip 7: Reach Out for Help
Remember, you're not alone on this journey.
If you're confronted with the need to arrange care for your parents or elders, don't hesitate to seek help.
A financial advisor can act as a sounding board and provide an outside perspective to help your family navigate the emotions and decisions involved in elder care.
It's important to have someone in your corner who can help you understand your options and connect you with any necessary legal advice.
As you help your loved ones navigate the process of elder care, remember that support is available.
---
This content is developed from sources believed to be providing accurate information. The information provided is not written or intended as tax or legal advice and may not be relied on for purposes of avoiding any Federal tax penalties. Individuals are encouraged to seek advice from their own tax or legal counsel. Individuals involved in the estate planning process should work with an estate planning team, including their own personal legal or tax counsel. Neither the information presented nor any opinion expressed constitutes a representation by us of a specific investment or the purchase or sale of any securities. Asset allocation and diversification do not ensure a profit or protect against loss in declining markets. This material was developed and produced by Advisor Websites to provide information on a topic that may be of interest. Copyright 2023 Advisor Websites.