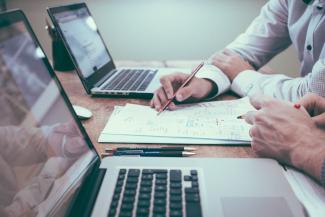 When John recently lost his wife Betty to cancer, their children were surprised to find out that neither John nor Betty had life insurance. As a result, the children ended up paying the cost of the funeral, and John, currently on a fixed income, is left contemplating whether he can afford to stay in the home they had lived in for over 25 years.
An untimely death can have a major financial impact on those left behind, particularly if there is a mortgage to pay, credit card debt, or an outstanding auto loan. Even final expenses can be a burden.
There are a variety of life insurance policy options that you can choose from, with each designed for the specific needs of the insured. The more common types of life insurance include:
Term Life Insurance
Term life insurance provides protection for a very specific period, with the premium typically remaining the same throughout that period. For instance, if you take out a $500,000 term life insurance policy for 20 years, and die in year 19, your designated beneficiary will receive the $500,000 tax free. However, if you do not die during that 20-year term, the policy simply expires. Most term life policies offer an extension at the end of the term, but the premium will rise substantially if the policy is extended.
Universal Life Insurance
Universal life insurance offers a lot of flexibility that a term policy does not, though premiums are much higher for a universal life policy than a term life policy. The reason for the higher premiums is that a portion of the premium paid monthly or yearly is divided between the cost of the insurance, and a cash value policy. The cash value policy allows the policy cash value to build over time, on a tax-deferred basis, while also allowing policy holders to determine the level of death benefits they wish to derive from the policy. In addition, upon your death, beneficiaries will receive the death benefit as well as the cash value portion of the policy. Another nice feature is that universal life policy holders can change the amount of the premium by changing the amount of death benefit, and can move funds between the insurance portion and the cash value portion of the policy.
Whole Life Insurance
Whole life insurance is permanent; designed to remain in force throughout the life of the policy holder, provided that premiums are paid on a timely basis. Like universal life, whole life insurance premiums are typically mush higher than term life premiums. Like universal life, whole life policies also have a cash value, with part of the premium being invested. However, unlike universal life, beneficiaries will only receive the death benefit portion of a whole life policy upon your death, as the cash value of a whole life policy is designed to be used by the insured during his or her lifetime.
The cost of any life insurance policy is determined by a number of factors, including age, gender, geographic location, and other general risk factors such as health or lifestyle that may be taken into consideration. The cost of insurance will obviously vary for a healthy 25 year and a sedentary 50-year-old, but policy value also a contributing factor. An insurance agent can help guide you through the process of purchasing a life insurance policy that best suits your budget and your financial goals.
*This content is developed from sources believed to be providing accurate information. The information provided is not written or intended as tax or legal advice and may not be relied on for purposes of avoiding any Federal tax penalties. Individuals are encouraged to seek advice from their own tax or legal counsel. Individuals involved in the estate planning process should work with an estate planning team, including their own personal legal or tax counsel. Neither the information presented nor any opinion expressed constitutes a representation by us of a specific investment or the purchase or sale of any securities. Asset allocation and diversification do not ensure a profit or protect against loss in declining markets. This material was developed and produced by Advisor Websites to provide information on a topic that may be of interest. Copyright 2023 Advisor Websites.