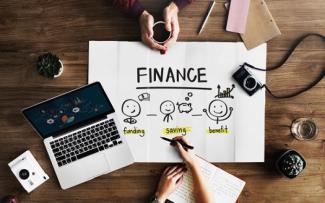 How to Create a Financial Plan
Creating a financial plan may seem overwhelming to those that have never completed one, but taking the first steps to creating a plan is much easier than you may think. Even if you plan on hiring a professional financial planner down the road, creating a rudimentary plan can go a long way towards sharpening your goals, making your meeting with a financial planner much more useful when it does occur.
If you're not sure where to start, just follow these easy steps.
Take stock of your current income and expenses. While doing so, be sure to categorize your expenses, so you'll be able to see exactly where your money is going. Most financial institutions make this process easy by providing details on all transactions. Be sure to include credit cards in this first step as well. This should be done for at least a month, preferably two, to give you a clear idea on just where your money is going. On a side note, this process can be an eye opener, so be prepared.
Create some basic financial goals. They can be as simple as saving to buy a house, or wanting to retire at age 45. Try to be as specific as possible, and start doing everything you can to realize those goals. If your main goal right now is to buy a house, start driving around, looking at neighborhoods, or attend an open house or two. These simple acts will make buying a home less abstract and more of a goal that you are actively working towards.
Be sure to create both short term and long-term financial plans. While your home-buying goal is short-term, wanting to retire at age 45 will require a more specific financial strategy. In the meantime, start taking the steps needed to attain your short-term goals. You can do this by taking a look at your current income and expenses, created earlier. For example, if you're spending hundreds of dollars eating out each month, make a commitment to dining in more. If you have significant credit card debt, funnel some of the money you'll be saving eating in directly to those credit card companies and pay that debt off. You'll reach your home-buying goal faster, while improving your credit score as well.
Put money in a savings account. Whether you're saving for a down payment on your new home, or just want a cushion, it's important to maintain some liquid assets for an emergency.
If you're not already, start contributing to your employer's 401(k), if one is offered. If you're self-employed, or your employer doesn't offer an investment option, open a Roth IRA. Both play an important role in that early retirement goal you've set for yourself.
Be sure your plan is fluid. A financial plan is a living document, and should be updated as your circumstances change. Events like marriage, divorce, a job change, of the birth of a child can have significant impact on your financial goals, and your ability to attain those goals. Make sure your plan changes accordingly.
As your plan and your goals expand, seriously consider consulting with a financial advisor or other financial professional who can help you with larger goals such investing in the stock market, early retirement, or financing a business.
*This content is developed from sources believed to be providing accurate information. The information provided is not written or intended as tax or legal advice and may not be relied on for purposes of avoiding any Federal tax penalties. Individuals are encouraged to seek advice from their own tax or legal counsel. Individuals involved in the estate planning process should work with an estate planning team, including their own personal legal or tax counsel. Neither the information presented nor any opinion expressed constitutes a representation by us of a specific investment or the purchase or sale of any securities. Asset allocation and diversification do not ensure a profit or protect against loss in declining markets. This material was developed and produced by Advisor Websites to provide information on a topic that may be of interest. Copyright 2023 Advisor Websites.